The average wedding has become an expensive affair. The latest Real Weddings Study by The Knot found that weddings in the United States cost an average of $33,900 per couple. This includes all the wedding-related costs from the moment you're engaged.
But with inflation and the cost of living going up, it's understandable why many couples want a small, affordable wedding. There are a lot of ways to cut back and DIY wedding things to save hundreds (or even thousands) of dollars. But today, we want to focus on helping create DIY wedding programs.
Your printed materials for your wedding (e.g. invitations, RSVP cards, customized envelopes, wedding programs, table card numbers, menus, etc.) may not be exempt from wedding tax. The invitations alone can cost between $400 to $650, and this is for simple designing, layout, and printing. By doing these yourself, you can create memorable keepsakes that won't be a burden on your wedding budget.
Use Free Wedding Program Templates
If you don't have any experience designing a program, there are plenty of websites that offer free or low-cost wedding program templates. Simply choose a design you want and then add in your details and wedding program flow. Here are a few websites we recommend:
Mountain Modern Life
Perfect for weddings with rustic/outdoor/mountain/Bohemian themes
A blog by a rustic-modern, DIY-loving couple enjoying the mountain life in their renovated RV, Mountain Modern Life offers all types of printables for your wedding:
Advice Cards
Bridal Showers
Custom Cards
Detail Cards
Invitations (Invitation Sets, Reception-Only Invites, etc. )
Menus
Programs (including their creative DIY wedding program fan!)
RSVP Cards
Save the Dates
Signage
Table Numbers/Place Cards
Wishing Well Card
Their customizable DIY wedding program templates are not free and the PDF files start at $10. However, it's a small price to pay for a template you can easily edit using the latest Adobe Reader program and then print multiple copies in the comfort of your own home.
Canva
Perfect for any type of wedding theme
Canva has been the go-to platform for those in need of posters, banners, or any DIY printables and online publicity materials. The platform offers free templates for wedding invitations, save the dates, wedding programs, and more.
You can use their platform without signing up for an account, but if you want to save an editable file, you need to have an account. And if you want to add in some premium clip art or designs, you will have to pay for Canva's membership.
What's great about Canva is that unlike other free templates, you can edit the positioning, font size, and type, and basically have more control over designing it. So, while you save money by using a template, you're also making it look less like a template and more like your own personally designed program.
The Budget Savvy Bride
Perfect for traditional/romantic wedding themes
The Budget Savvy Bride provides not only free templates you can download, edit, and print, but also instructions on how to print and decorate it for your guests. The template comes in an MS Word file, which many of us should be able to navigate by now. Simply add in your ceremony details and print it so that it becomes a back-to-back printable you can turn into a leaflet.
Sweet Violet Bride
Perfect for outdoor/barn/rustic wedding themes
Sweet Violet Bride provides Pretty Blooms, a creative DIY wedding program idea that will make guests want to hold onto their program: wedding program fans. Their template is on an MS Word file and is sized on letter-sized paper. Because you'll want your guests to use this as a fan, it's recommended you buy sturdy card stock to print your programs.
The website has instructions on how to print your invites and prepare them (fold them over wooden fan handles – you can buy these online). If you have over a hundred guests, you might want to get your bridal entourage's help for this.
Boho Weddings
Perfect for Boho/rustic/traditional weddings
Although created by a blog called
Boho Weddings
this free printable accordion wedding program's design is perfect for rustic and traditional weddings. The MS Word file is available for a free download and can be customized to fit your own wedding colors. By default, however, its colors are black and white; if you want to save money, find paper or card stock in your wedding theme color and print it as is.
Paper Crafts & Creations
Perfect for low-budget/fun/casual weddings
This wedding program template may not be everyone's tastes over how wordy and cluttered it is, but if you want your guests to thoroughly know what to expect, the features of your wedding, the menu, the schedule, and things like drinks, photobooth, and things for the kids to do, this wedding program from Paper Crafts & Creations is perfect.
Of course, this may mean editing a lot of parts out to make it fit with your own wedding. But with a little personalization, it should be a very thorough wedding program your guests will appreciate.
Printing Your DIY Wedding Programs
Once you have your DIY wedding program file edited, it's time to have it printed. To save on costs, it would be great if you already have a good printer at home. Make sure it has enough ink, and when printing, avoid selecting the ink-saving options as this can affect the quality of your wedding program.
Your cheapest option is to print your program on ordinary printer paper in letter or legal size. Remember that your wedding program may be a keepsake for you, but most of your guests are likely to throw it away after the wedding. So, as long as you save one copy, having it in regular printer paper isn't a problem (and no, your guests aren't going to judge you for it).
But if you want something thicker or are planning on making a DIY wedding program as a fan or some other creative way, you can buy card stock or board paper. You can buy cardstock online or at your local craft store.
If you don't have a printer at home, have it printed by a friend, family member, or a member of the wedding entourage who has a printer and is willing to lend a hand. If all else fails, take it to a copy or printing shop. Have them print one copy first so you can see where you may need to have final edits before printing out as many programs as you need.
If All Else Fails, Cut Out the Programs Entirely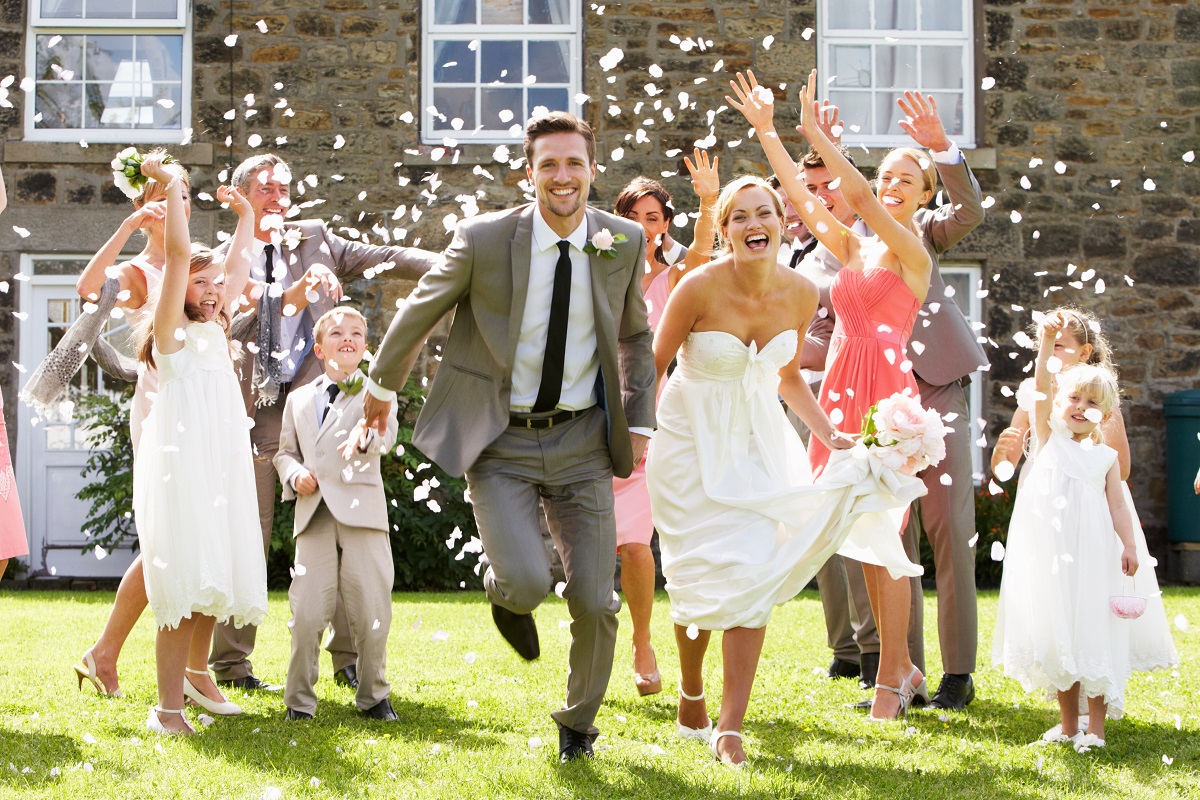 If you really want to go low-budget and low-key, here's a suggestion: cut out program leaflets entirely. For more casual and informal wedding parties, you can do away with the programs and just let your guests enjoy the moment. But for more formal parties, you can have a program flow posted by the entrance or have one program on a tabletop cardholder per table.
Providing everyone with a wedding program isn't necessary for a successful wedding. While your wedding is a special day for you and your partner, here's a cold truth: it's highly unlikely that most of your guests will keep the program as a wedding keepsake, and it's likely to be lost, misplaced, and disposed of after the wedding.
With that in mind, the argument of spending $5 apiece on printed wedding programs may not seem like a good expense to make. So, if you don't cut it out, at least make it a low priority where you can try to cut costs without feeling guilty.
Bottomline
There are plenty of websites where you get free DIY wedding program templates for your upcoming nuptials. It's a great way to cut costs while still providing your guests with a fun way to know what to expect on your wedding day. A bit of customization will also add a personal touch to these templates. A handpainted mandala flower or calligraphy of your monogram, for example.
As long as you're willing to put in the effort (and maybe have a wedding entourage willing to help), these can still turn out great. Don't forget to save at least one wedding program for you and your partner to keep!