Elevate your home's aesthetic with well-designed outdoor spaces which provide physical and mental health benefits.
Create stunning landscaping with plants, flowers, and water features to add color and freshness.
Incorporate unique outdoor furniture, lighting, and art to create an inviting and distinct atmosphere.
Add functional elements like outdoor kitchens, cozy fireplaces, and fitness areas to enhance your outdoor experience.
Choose a complementary color scheme to merge your indoor and outdoor spaces seamlessly.
The exterior of your home is just as important as the interior. An outdoor area reflects your personality and offers a gateway to your lifestyle. You can create an outdoor space that defines your taste and reflects your love for being outside.
A well-designed outdoor space can be crucial to your home's look and feel. It's the perfect way to enhance your home's aesthetic and provides a space for relaxing and entertaining guests. Plus, spending time outside has been shown to have numerous physical and mental health benefits.
From creating a cozy outdoor living room to adding a beautiful water feature, there are plenty of ways to elevate your home's aesthetic with an outdoor space. This blog post will walk you through some of the best ideas for boosting your home's aesthetic with gorgeous outdoor spaces.
Landscaping Ideas for Outdoor Spaces
The first and foremost idea for achieving a gorgeous outdoor space for your home is landscaping. The landscape design incorporates natural elements such as plants, flowers, and water features into your outdoor space.
It helps create a cohesive outdoor area that blends with your home's style. If you love minimalist design, including plants that add greenery and texture to your outdoor space is a great way to go.
Complementary Plants and Flowers
When selecting plants and flowers for your outdoor landscape, choose colors that complement the overall aesthetic of your home. Using the same color scheme to merge the outdoor and indoor environments can be an excellent approach.
This will enable a seamless transition between your indoor and outdoor areas. For example, if your paint job is neutral, you might want to incorporate plants and flowers to give your outdoor space a vibrant look.
Creating an Outdoor Oasis With a Water Feature
Another fantastic idea to elevate your home's aesthetic with gorgeous outdoor spaces is incorporating water features like a water fountain will transform any outdoor space into a comfy paradise.
The sound, sight, and feel of running water give your outdoor lounging area a more tranquil and relaxing vibe. You can choose from numerous custom options, from waterfall features to small ponds.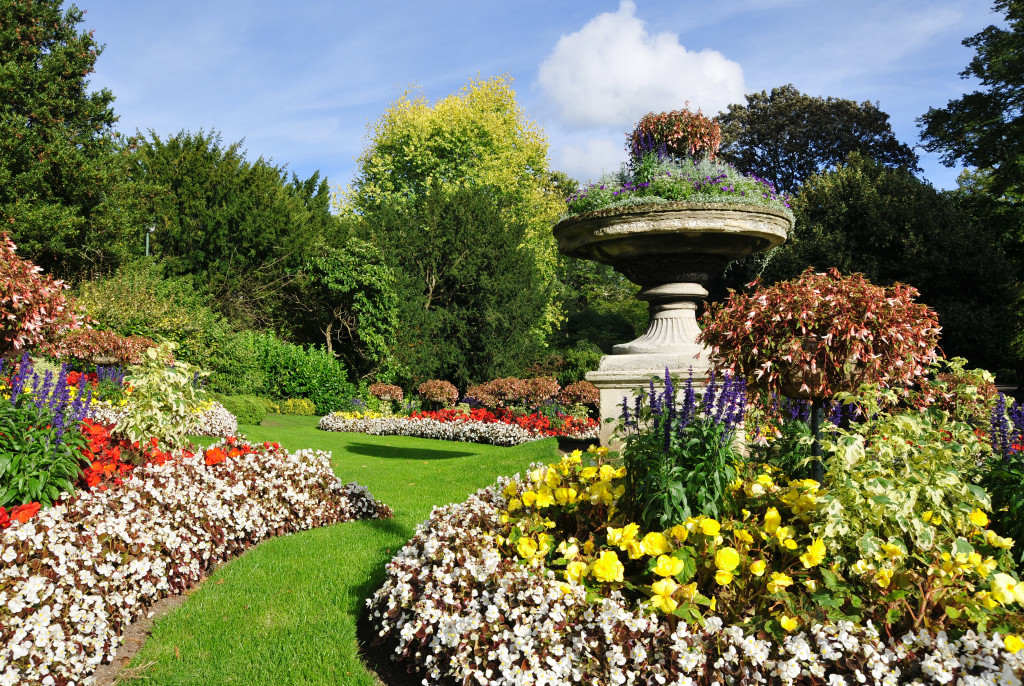 Creative Outdoor Furniture and Decor Ideas
To complete your outdoor oasis, consider incorporating creative furniture and décor. Outdoor furniture can be stylish and functional, offering a space to entertain guests comfortably or to kick back and relax. Some ideas might include the following:
Unique Furniture Pieces
Adding unique furniture to your outdoor space can help create a distinct and inviting atmosphere. Add a hanging hammock, swing daybed or vibrant Adirondack chair. Mix and match colors and styles to make your space truly your own.
Lighting Options
Lighting is critical when creating an inviting atmosphere. Add some string lights or lanterns for a cozy and romantic look. Or, add path lights to highlight walkways, gardens, or water features for a practical and luxurious touch.
Incorporating Art and Sculptures
Outdoor spaces have limitless potential for displaying art and sculptures. Consider adding a large, colorful canvas or an impressive sculpture to make a statement. It will undoubtedly add a touch of personality to your outdoor space.
Functional Additions to Outdoor Spaces
In addition to the aesthetic aspects of your outdoor space, functional elements can enhance your overall outdoor experience. Here are some ideas for functional additions to make your outdoor space more comfortable and enjoyable.
Outdoor Kitchens and Dining Areas
If you are a foodie and love hosting, an outdoor kitchen setup and dining areas are just for you. Add a grill, a pizza oven, or even a built-in bar for your guests. Make it a space where everyone wants to be, and the party never ends!
Cozy Outdoor Fireplace
A cozy outdoor fireplace can bring the comfort of the indoors to the great outdoors. It is a perfect gathering spot for sharing stories and creating memories with friends and family. Add comfortable seating to create an intimate atmosphere.
Fitness Areas
If you like staying active, you can create a space for yoga or meditation or install a mini gym. Exercise should be relaxation and enjoy it with the fresh air.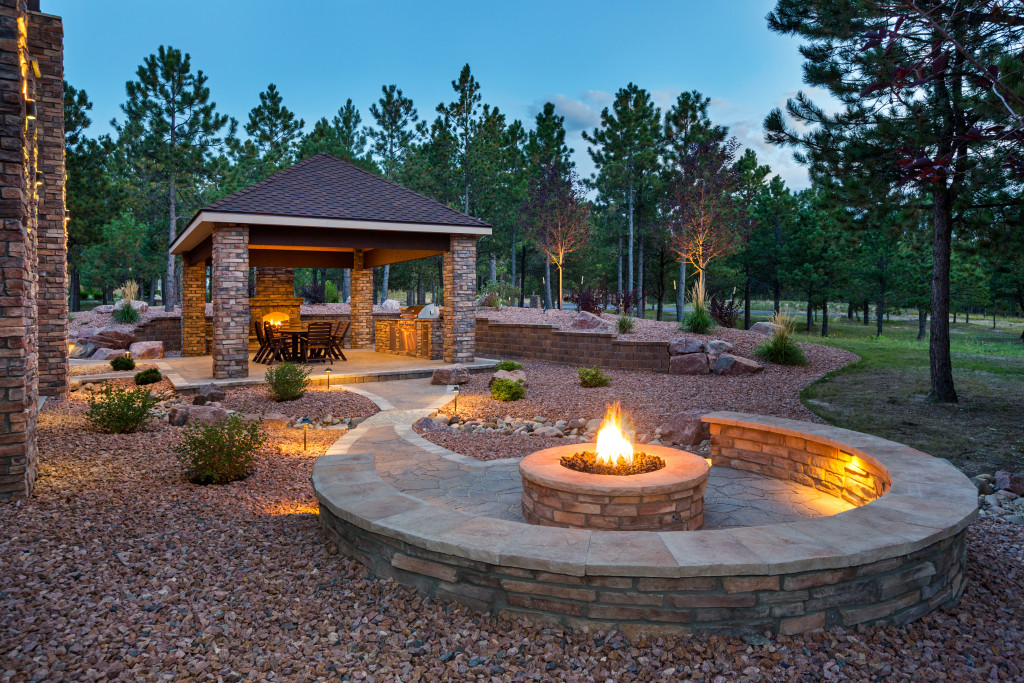 With these ideas, you can elevate your home's aesthetic with gorgeous outdoor spaces. There are different design styles and numerous custom options to suit your needs, preferences, and budgets. A gorgeous outdoor space creates a welcoming spirit, can help nurture lasting connections, and lets you love and cherish your home in a way that speaks to you.
Try experimenting with these ideas to make your outdoor space more playful and enjoyable. Remember, creating a beautiful outdoor space takes time, patience, and some creative thinking, but the payoff is always worth it.