A house should be your haven. It's a place where you can bond with the whole family. It's also a place where you should enjoy complete safety. Whether you're constructing one or in the process of home improvement, you want to assure that your home is free from harm. This is important if you have kids or if you have valuables you have to keep.
A Forbes article mentioned that an average of over 1 million burglaries happens in the U.S. yearly. This only means that every house is prone to this danger. This is why it's important to focus on your property's safety before anything else. Intend on employing security features while planning the construction of your house. Add these features if you are renovating your home.
There are a lot of ways to safeguard your property. We have a few ideas that you can add to the blueprint. Consider these options once you plan on constructing a house for your family. These are also applicable as "add-ons" if you're doing home improvements.
Security Cameras
It has become an option for most houses to have some kind of security system with them. Putting security cameras could be the best and most effective option for security systems. You can shop for security cameras as early as the conceptualization of your house. Plan on putting these security cameras in a way that they could maximize their coverage. The same goes if you're planning to add security cameras within your premises. A lot of security camera systems are available in the market.
There are basic ones that can make you monitor your property even when you're away. Some even offer services that have 24/7 professional monitoring. They usually come in a subscription plan. Choose the best one that fits your preferences. It's also better if you can choose systems that could give you more than your money's worth. It's one of those investments you should take a look into.
Motion and Sound Sensors
Not all moments can be captured by a security camera system. In this case, a motion and sound sensor can help. These systems trigger an alarm if they need to alert you of suspicious movements within your premises. Examine the layout of your house. Review access points that are most prone to unauthorized entry. These places in your house are the most crucial parts of the whole construction. You can use your motion and sound sensors here.
These systems are very convenient to employ. You can arm and disarm them effortlessly. They can even be integrated with an alarm app on your mobile phone. Look into getting these if you are planning to build or improve the security system of your home.
Protective Doors and Barriers
Speaking of access points, choosing doors and windows is also a significant part of house construction. Protect your property by attaching the most secured doors and windows. Give utmost importance to your front door cause it's the most probable entry point for burglars. In a Reader's Digest write-up, it's mentioned that 34% of burglars use the front door. Give the equivalent amount of importance to your backdoor too. According to the same article, 22% of burglars enter the house through the back door.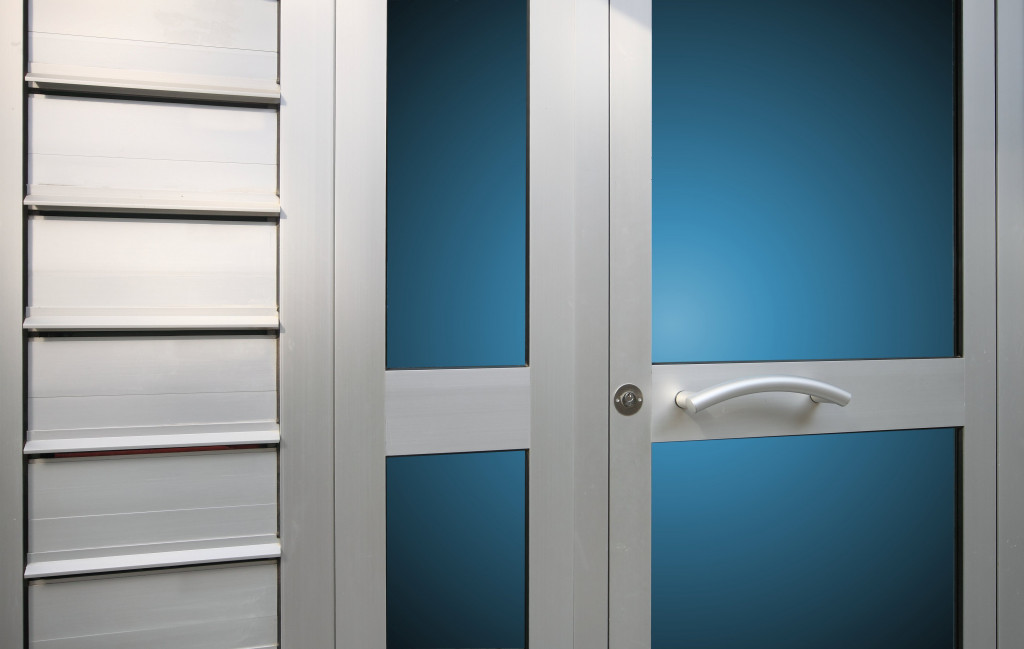 In line with this, a secure lock system is also an option. Locking windows should not be difficult too. Opt for the most secure locks that you can find. Go for digital lock systems if you're willing to shell out a little from your pocket. If you really want to intimidate the housebreakers, put up composite gates and tall fences around your property. These could make your house look more safeguarded.
Outdoor Lamps
Let's not underestimate your landscape lamps. Many would think that these light sources are only for aesthetic purposes. But outdoor lamps can be a powerful tool to drive the burglars away. Turning them on leaves an impression that there is someone in the house. This could be helpful in preventing break-ins at night.
Landscape lamps can also illuminate spots that are dark. It's an effective way to aid your cameras when lighting is poor. Eliminate blind spots so security cameras could see and record everything. So if you're planning your outdoor landscape, make sure to place your outdoor lamps strategically. Drive burglars away with the beauty of your outdoor night light displays.
Always be mindful of your family's safety when planning on building your house. Exhaust the best security options if you are in doing home improvements. Create a safe space for your family by considering the tips above. Your home should be a place where harm is not welcome