These days, a typical, full-scale bathroom remodel could set you back $16,000. And this doesn't include luxurious pieces that make bathrooms look and feel expensive—think a high-end tub or Carrara marble floor tiles. Fortunately for you, here are six practical tips to make your bathroom look more expensive than it really is.
1. Opt for Large-Scale Light Fixtures
Large-scale lighting, particularly chandeliers, could make a huge overhead impact, but won't eat up actual space. Where space is the biggest luxury in a bathroom, a chandelier could be an easy way to bring that luxe feel in your bathroom.
2. Install Tiles Diagonally and Up to Your Ceiling
Aside from making your bathroom feel classier and custom-made, it would likewise make the space appear bigger. You could also opt to fully cover the walls with tile to give dimension and texture to an otherwise plain surface, suggests a top tile flooring specialist in Orange County. She adds that while tile selection is vital, it's how you use the tile that really matters.
3. Create A Rug from Tiles
Majority of interior designers would advise you that the best element to splurge on when remodeling your bathroom is the flooring since it would provide the most impact. Rather than laying down expensive tile everywhere, you could make do with a couple of luxurious tiles and create a rug design in front of your vanity or tub.
4. Add Splashes of Metallic and Gold Accents
A design staple of the '70s and '80s, brass is making a huge comeback in many homes these days. Add splashes of brass or any metal in gold tone to lend elegance and warmth to your bathroom. When choosing a gold-tone, make sure to select the right tone. Avoid gold tones with greenish undertones to avoid making your bathroom look dated and opt for brushed gold tones that look fresh and warmer. Consider metallic pieces for your pulls and knobs, mirror frame, soap dishes, containers, vanity products, and wastebasket. These would give significant impact without the high cost.
5. Let Nature In by Adding Plants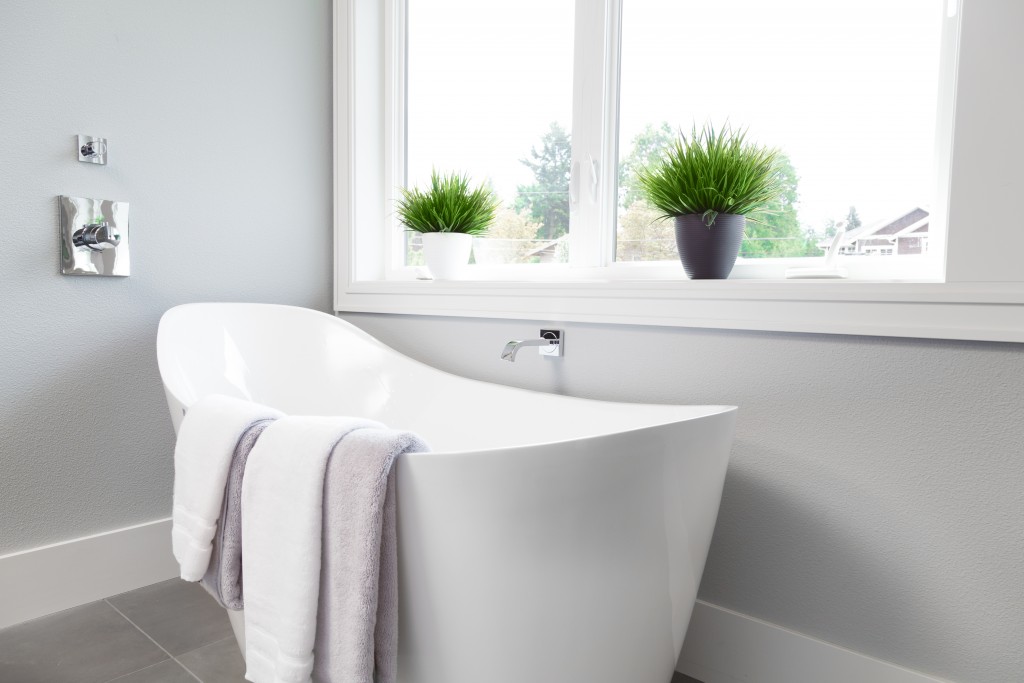 Plants in beautiful planters hanging from the ceiling or placed high on shelves would help draw the eyes up, which would effectively make the space look bigger. Plants to consider include orchids and low maintenance greens such as ferns and aloe vera.
6. Incorporate a Statement Mirror
To give your bathroom that high-end feel, look for a big mirror in a unique shape or interesting frame style such as tortoiseshell, Moroccan, or gold. You could take advantage of the scale for that wow factor because incorporating an oversized statement mirror, particularly when extended up to your ceiling would offer drama and more visual space.
Not all homeowners have the budget to create the bathroom of their dreams, but this doesn't necessarily mean that your renovation needs to be uninspired and generic. Instead of pining over luxurious bathrooms on your bathroom remodeling ideas Pinterest board, keep the tips in mind to get that luxe feel at a fraction of the cost.