Some people are naturally talented in designing. If you're enjoying room decoration, interior designing may be a great career for you. But before you get a career in the industry, you first need to learn how to become an interior designer.
Like other professionals, interior designers also face challenges every day. It's not always about fun and decorating. It's a career that professionals take seriously, so you need to be up for it once you take the opportunity. Let's find out how to start.
Interest in Designing
First of all, you need to determine if you have the heart for home decorating. If you do, then you're off to a good start. Yet, decorating and designing differ in many ways. Interior designers don't just pick out the perfect curtains, lights, and indoor doormats. They have extensive education in related fields like architecture, fine- arts, and digital design.
Get an Education
Having a formal education in interior designing is becoming fundamental in this career. The Council for Interior Design Accreditation certified several schools like the New York Institute of Art + Design and SCAD. Other schools are also offering two-year courses in interior designing.
Broaden your Network and Find a Mentor
Getting a formal education alone isn't enough. Even though you finished your degree and got your diploma, you still have to learn further. And that's why you'll need a mentor. Your mentor will keep you updated with the latest trends and introduce you to a few individuals in the designing industry.
Create an Interesting Portfolio
In designing, you need to find your own style. Even though you find inspiration from other designers, you must mark your identity as an interior designer. The best way to get clients is by having a portfolio.
Your portfolio will feature your previous designs and your achievements. It should be impressive enough to catch the attention of your prospective clients. Lastly, it should include what you can offer as a designer, how you make your projects unique, and how you engage with clients.
What You Need to Know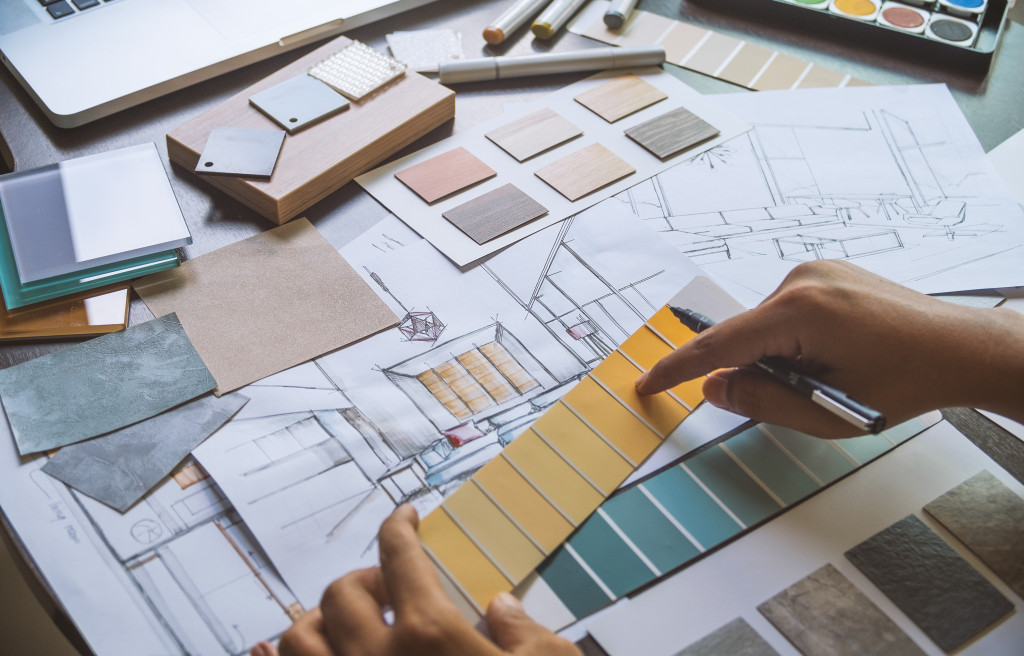 Many interior designers enter this career without thinking about how it differs from other professions. Interior designing is not just about decorating, painting colors, and being creative. This career requires passion and dedication, something that most designers lack.
Decorating and designing are not the same.
The main difference between interior designing and home decorating is education. As mentioned, professional designers need to attend school before starting a career. In contrast, home decorating can be for everybody.
Passion and ability are necessary.
It may seem evident, but you need to have the heart for architecture, spaces, color, and more to become an interior designer.
There are other factors to consider.
While most interior design goes around fabrics, colors, and furniture, there are other tasks that you need to consider. We're talking about working with the homeowner, architect, business owners, and government agencies.
The salary isn't as high as you expect.
If you think that interior designing will make you richer after a few months, think again. According to statistics, the annual salary of a beginner designer has an average of $47,188.
You need to be a people person.
Being an interior designer means that you have to talk to your clients directly. You need to listen to their preferences and put their ideas into reality as you incorporate your style. It's not just about you doing your job but also your clients loving your work.
Being flexible.
Some clients have a clear vision of what they want to achieve. But some clients tend to change decisions too often. An interior needs to be flexible to meet their client's expectations. It would help if you were sociable and understanding so you can guide them to better designing ideas.
Be competitive.
Because of the diversity of interior design, it's considered a competitive business. It's hard to succeed in an industry that overflows with talents and unique skills, so you need to step up your game. One of your top priorities should be getting noticed by high-profile clients. If they like your work, your career will get the marketing it needs without you even trying.
Know the trend.
You also need to stay updated with what's in and what's out. Clients usually ask their designers of they think will look better. You must know the latest trends that will make their homes pop.
A career in interior design can be a fulfilling job. However, not everyone is lucky enough to make a living out of it. If you think your background in decorating and designing can bring you places, now is the time to start learning. Who knows, you can be one of the most successful interior designers in the years to come.