Although it's easy to see gorgeous and carefully assembled tables and fun fancy plates, patterned napkins, and rimmed glasses, building an arsenal of kitchen and entertaining pieces can be challenging for most people. However, if you love entertaining guests and would love to do it more often, having the right things on hand can be the difference between a good time and a disaster.
With that in mind, here are must-have essentials for entertaining guests, making the process easier and more comfortable for everyone.
Buffet Table
Sideboards or buffet tables are a long and low piece of furniture typically placed in dining rooms to display food items in a classier manner—and these are often made with granite countertops, making clean up more manageable and serving of foods more flexible. Buffet tables are a great item to have if you plan on serving a lot of food items or showcase them to guests.
Matching Dinnerware
Before you begin bringing out the fine china and fancy salad plates you have, it's best to get a standard matching set of white dinnerware. They go with everything, so even if you start expanding your dinnerware collection, you can always come back to your white set. It's best to have matching ones since serving guests with different colored or patterned plates and general dinnerware may seem tacky.
That's why if you're looking to be a great host and hold an elegant and enjoyable gathering, don't forget about the matching dinnerware.
Table Linen/Napkins
Most table linens are soft and delicately made from gorgeous materials in different shapes and patterns, and the best type you should get for your gatherings are linen napkins. Although they require more care and maintenance, having these can add the needed elegance factor for any home gathering. It's best to have 8 to 12 napkins in one pattern or color, for starters.
Paper napkins are also okay if you don't have the means for linen napkins. Just make sure to go for something colorful or patterned to brighten up your table.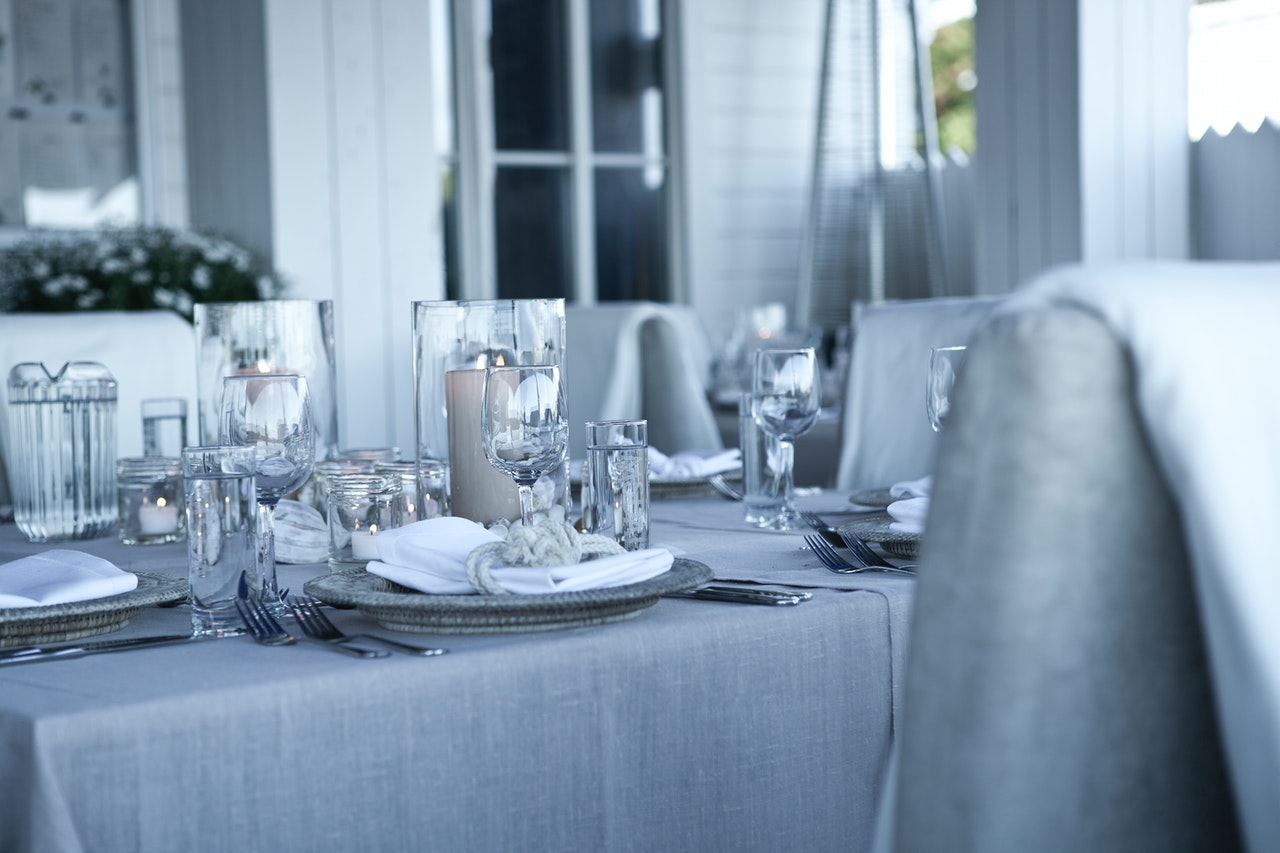 Enough Cutlery
Although cutlery or flatware is something you may already have in your kitchen, you need to ensure you need to have matching sets for gatherings. Even if "matching" may be overwhelming if you have mismatched vintage pieces, you need to have at least one set of cutlery that you can be confident displaying on your table in front of your guests.
Plus, make sure to have enough for all guests. After all, the last thing you'd want is running out of spoons or forks and compromise for plastic alternatives.
Multipurpose Drinking Glasses
Having fancy multipurpose drinking glasses can instantly make champagnes, wines, cocktails, and any other drink more glamorous than before—making them more enjoyable to drink. Make sure to get an extra set in case of accidents or unexpected visitors.
Candles
Having candles around your table setup is a great way to set the perfect mood for most events. However, remember that when using candles on the dining table, pick ones without a scent. That's because ones with fragrances can interfere with one's dining experience. But don't hesitate to place scented candles in other spots throughout your home.
Coasters
If you're not planning on using a tablecloth, you need to have coasters in place because spills are the last thing any host would want at their gatherings. However, even if you have a tablecloth, adding coasters to your table setup can amp it up more, making it classier and functional.
Centerpiece
Finally, having a centerpiece can help complete any table, allowing your guests to enjoy their food even more. However, you don't need multiple vases to create beautiful centerpieces, or you don't even need one at all. You can create gorgeous focal pieces for your table from other vessels throughout your home. Think of a timeless and universal piece offering more than one use, such as a soup tureen that you can easily fit flowers in—giving you a unique and eye-catching centerpiece.
Meanwhile, if you're looking for a more "edible" centerpiece, having your dessert served on a large serving platter is a great idea. For instance, even if you don't have extravagant desserts and only plan on serving simple shortbread cookies, removing them from their packaging and serving them on a tiered tray can elevate the vibes of any gathering.
Whether you're planning on hosting a holiday dinner or cocktail party, gatherings always demand a lot of effort, and most families already have special events marked on their calendars. However, besides bringing out your "fine china" during these times, don't forget to have any of the essentials mentioned to help you become a better host and ensure everyone has a good time.