When you plan on remodeling your abode's interiors, Pinterest is probably the first place you'd go to. While the app undeniably has tons of interior design inspirations, it's not the most reliable place for seeking expert advice, particularly about boosting your home's value. For that, interior designers have the best tips.
Unless you're designing your forever home, then it's best to resist the urge to consult Pinterest fully. Though you can still use some Pins to define your style, remember that you're about to sell, which means that your new interiors should appeal to your buyer, not just to you.
That said, here's an interior designer's take on boosting your home's value:
1. Don't Get Rid of all the Traditional Elements
Many people think that remodeling means purging all the old and replacing them with new, trendy stuff. But if the traditional elements in your home aren't dated, then they can stay. Besides, even if you change the entire aesthetics of your home by incorporating all the latest trends, you still can't please every single buyer.
2. Create an Illusion of More Space
If you have less-than-ideal square footage, use the trick of light and furniture to make the interiors feel spacious. Consider making an open floor plan, and using lightweight furniture with exposed legs to exude airiness. Maximize the effect of natural light by painting the walls white and choosing light-colored window treatments. While the actual square footage will still affect your home's price, the perceived size of the interiors can still give it a helpful boost.
3. Build a Walk-in Closet in the Master's Bedroom
If yours doesn't have one yet, see if there's enough room, because a custom walk-in closet is a luxury many buyers seek. You don't have to choose high-end cabinets and shelving for it, as affordable materials can also achieve a luxe look.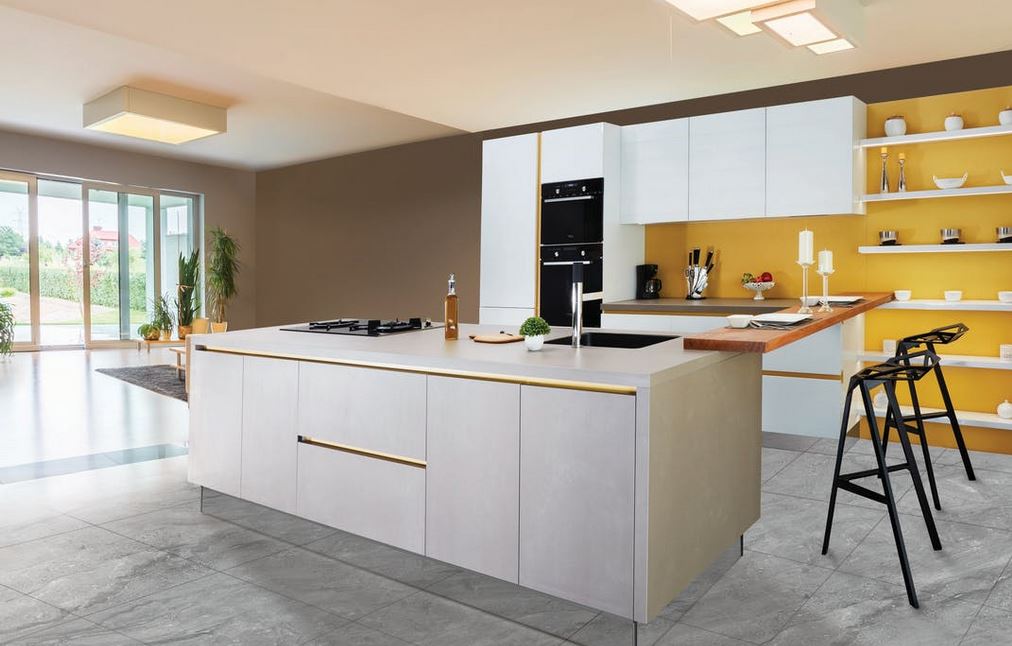 4. Focus All Investments and Efforts in the Kitchen
Every buyer will scrutinize your kitchen the most. So if the heart of your home has started to look dated, upgrade the cabinetry by replacing the hardware with modern ones, and installing modern light fixtures. While you're at it, consider changing the fixtures too. Your appliances and countertops can stay unless they're broken and not as functional anymore.
5. Consider a Scandinavian Interior Design
Every home should have a consistent aesthetic, which is one of the reasons prices appreciate and buyers fall in love. According to Bankrate, the interior design trends that stood out the most in Zoopla's property search tool were:
Scandinavian (£340,224 boost in value)
Farmhouse (£289,543 boost in value)
Rustic (£285,097 boost in value)
Bohemian (£283,819 boost in value)
Vintage (£273,973 boost in value)
Contemporary (£269,292 boost in value)
Mid-century Modern (£238,539 boost in value)
Minimalist (£220,594 boost in value)
Industrial (£165,079 boost in value)
Traditional (£115,243 boost in value)
You might be wondering why the particularly-abused word in interior design "minimalist" ranked low. That's because a clean, open space with a neutral or monochromatic palette isn't automatically minimalist. Scandinavian, the most popular interior design trend, also utilizes white and warm textures. So if you think these features will appeal to your buyers, consider transforming your abode into a Scandi haven to impress them.
6. Avoid Interior Design Trends That May Devalue Your Home
If there are interior trends that can increase your home's value, there are also ones that decrease it. Bright color schemes are the number one at this. They may exude a lot of personalities, but they instantly turn buyers off. So keep your color schemes calm, including the ones on your tiles and wallpapers.
But don't go all white either. You can make that color dominant, but include accent colors like green (indoor plants) wood tones (floors, beams, furniture), and other hues that will liven up and add dimension to an all-white, flat-looking space.
High-end shower rooms, despite their function, may actually devalue your home too, because buyers favor exquisite baths more. So when you shop for high-quality bathroom products, just focus on revamping the hardware and installing a bath if possible. No need to remodel the shower room.
Go easy on the high-tech features, if you're planning to install some or a whole smart home system. Though high-tech is the norm nowadays, it doesn't go as far as having to control every electronic via voice commands. So the good old light switches and dimmers can stay.
6. Integrate Energy-efficiency
Energy-efficient appliances and systems are essential nowadays. It could earn you incentives from your local government, not to mention lowered electricity and water bills. So, improve your home's insulation if you need to, maximize open spaces and natural light, and choose Energy-star appliances and LED light bulbs. When you nail the energy-efficiency of your home, it may become your biggest selling point, since it will reduce the closing costs.
Some interior design tips and trends here may be far from your expectations, hence you shouldn't rush to remodel your home. Be careful and intentional when you remodel for reselling, because you're ultimately doing it for someone else, not for yourself anymore.