Whether you are looking to add realty value to your home or want to make it look more beautiful, curb appeal is always a great way to check both boxes. The exterior of your home is the first thing that guests, passersby, and potential buyers see. Therefore, you should make sure it is attractive and kempt. Here are some ways you can heighten your home's curb appeal.
Maintenance
See to the maintenance of your lawn—pull out weeds, rake fallen leaves, mow the grass. Follow proper watering schedules and patterns. Under-watering causes scorched brown patches on your grass, while over-watering will lead to yellow spots, both of which are unsightly lawn issues. If you have any plants, make sure they receive proper care, as well. While it may seem tedious to maintain your lawn every day, it's better than having to deal with a massive mess in the future.
Add Greenery
Of course, the most popular way to enhance curb appeal is to introduce plants to the front areas of your home. While adding a whole garden would be great, you may not have enough time, budget, or space to do that. Luckily, you can use window boxes and planters to achieve the same effect. You can use plants to highlight and call attention to specific points of your home, such as entryways and windows. You could also get some hanging plants if you lack room for standing ones.
Install or Upgrade Your Patio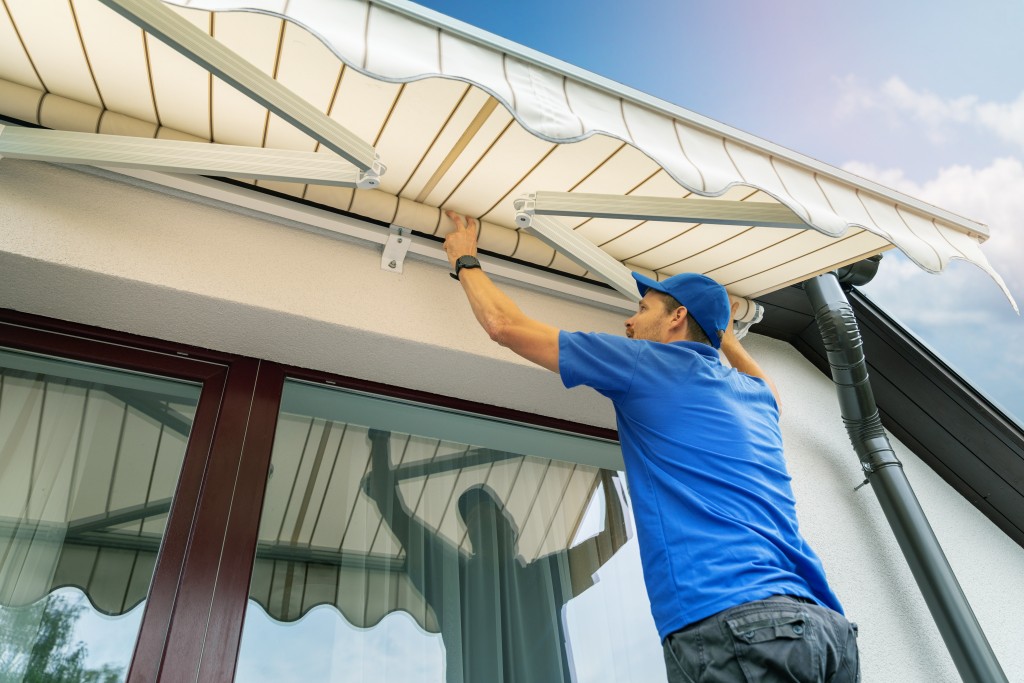 If you want to maximize space on your property and increase its realty value, then you should get a patio. If you already have one, then you may want to upgrade it. Check that there are no weeds in the patio cracks, as these could potentially ruin the integrity of your pavers. Add some lovely patio furniture to increase function and charm. Install patio sun shades to heighten comfort and convenience while you relax on your patio.
A New & Stylish Roof
Another excellent tip to improve your home's curb appeal is to fix and clean your roof. In the case that your roof is old and leaking then you may want to consider hiring a company such as Advance Roofing to replace it altogether. The right roofing company can help you improve the look of your home and ensure it keeps you safe and warm. It's also a home improvement project that'll add value to your property. They'll follow all the construction codes and regulations to perform the best job possible. There are many styles, designs, and materials to choose from, so make sure you do your homework before selecting a final roofing product and look.
Update Your Front Door
If you are looking for an effective way to update your home's façade, then change up the look of your front door—or, change the door altogether. You can paint your front door to complement or even to contrast your home's color, depending on what effect you wish to achieve. You can also add house numbers to your door and place a wreath (remember, wreaths are not only for Christmas). If your front door has seen better days, you should consider getting a new one. New doors not only fit better, they are usually more energy efficient, as well.
Update Your Light Fixtures
A poorly lit home is unwelcoming; so, add and update light fixtures to the front of your home. If your entryway is dark, then consider installing a hanging pendant or a sconce in the area. Put lights on your walkway to make your home more inviting and add other lights wherever you feel they are needed. Clean your old light fixtures and repaint them to refresh their look. For instance, if you have an old light fixture that is gold, you can easily paint it black to make it look modern.
Heightening your home's curb appeal is an excellent investment that increases market value, should you choose to sell your property. It's also a great way to beautify your cherished abode. Be sure to follow the tips above for a more eye-catching home!