When we need to be spending the majority of our days indoors, we need to find ways to turn our houses into homes that provide healing and comfort. While celebrities certainly have financial resources that we don't, we can still find ways to incorporate their design ideas and style philosophies into our homes in ways that don't break the bank. So don't be afraid to call your general contractor if you find yourself inspired by some of these ideas. Here are some interior design ideas from the stars that we can borrow now.
Taylor Swift
In 2015, the pop star told Vogue magazine that she filled one wall of her den with blown-up, framed Polaroid photos of the people she loves most. This is one design idea you can immediately cop without making major changes or renovations to your space—you only need to remove whatever frames you already have hanging and replace it with Polaroids. You only need to invest in a square metal grid panel and some wooden clips as well as a Polaroid printer or camera and some films, and you're well on your way to copying Swift's signature style, all while adding a touch of sentimentality to your space.
Dakota Johnson
The 50 Shades of Grey star made waves last year when her home was featured on Architectural Digest. And for good reason—her stunning and cozy house is a far cry from the overdone styles her Hollywood contemporaries have chosen for their homes. Johnson shied away from the typical white and minimalist aesthetic that many stars usually went for and chose a distinctly mid-century style for her interiors and design elements. Her beautiful home is inundated with antique and vintage pieces that are a far cry from the Scandinavian furniture that's all the rage nowadays.
But it was her kitchen that became the star of the show as it continues to trend on social media until today. She chose to paint her kitchen cabinetry in Benjamin Moore's Alligator Alley 4141 shade, which is part of the brand's Classic Color collection. It's a faded, musty green that feels cool to the eyes—almost like pea green. To give your kitchen or other parts of your home a sense of depth, don't shy away from colors that people consider "ugly." These colors can provide a lived-in, Old Hollywood feel to your space.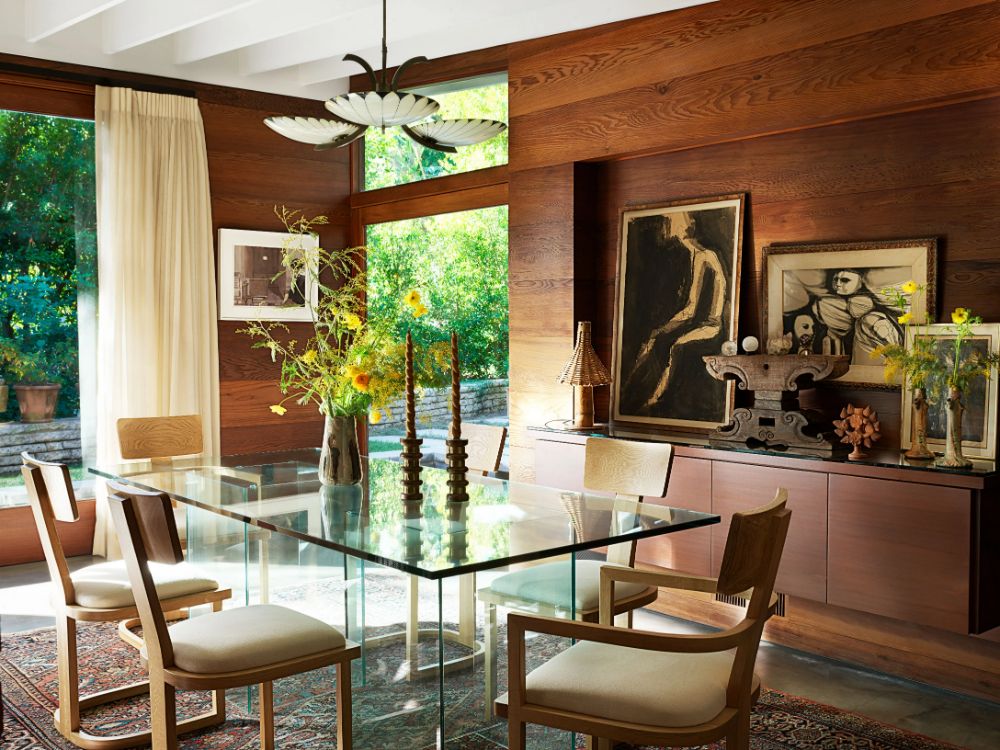 Shay Mitchell
The former Pretty Little Liars star toured the Architectural Digest around her Los Angeles residence, a glamorous 1920s home with Spanish-influenced elements. She and her partner welcomed their first baby in the past year, so they had to make many adjustments in the interiors of their homes to accommodate their new life. One aspect of her home that Mitchell was insistent upon was for her home to be "light-filled." Hence, she worked with her designer and contractor to redefine the home's interiors by resurfacing and bleaching the redwood floors and to reclaim some wooden furniture pieces.
To copy Mitchell's interior design style, paint your walls white and your cabinetry and couanters mostly black. If you have hardwood floors, keep it bare, and opt for wooden furniture. Let natural light in by using sheer white drapes open or doing away with them completely. It will give your interiors a monochromatic oasis that will make you want to stay in all day.
Tommy Hilfiger
The fashion giant's home was also featured on Architectural Digest, where he showcased his private residence in the iconic Plaza hotel in Midtown Manhattan. The designer and his wife Dee swapped the hotel's old-Hollywood glamour into a modern-day showpiece that stuns anyone who steps inside. At first glance, it may feel like there's nothing in their home that can be replicated by homeowners on a budget, but their reading nook that Dee loves so much can be added to any home with enough space for it.
If you're a reader who dreams of having a quiet place where you can enjoy some of your favorite books without being bothered by children or pets, consider investing in a bookcase with a built-in cushioned reading seat or adding invisible shelves on the walls of your living room to make your books more accessible while you lounge around in the couch. You don't need to live in the Plaza Hotel to have a cozy reading nook of your own.
You don't need to spend all of your life's savings to live like the stars. Consult with your contractor about your options and what you can do to achieve your dream home on a budget.