It's still early in the new year and you may already be itching for a good home improvement project. Maybe you to put up Gothic wallpaper or maybe you want to install an Asian-inspired kitchen. Redecorating your kitchen is a huge project and it could thousands of dollars and maybe weeks, if not months, of labor. However, you can always revitalize your kitchen by buying the right furniture pieces.
If you're thinking of getting something new for your kitchen, you should definitely look into a kitchen hutch. But why is a kitchen hutch a great addition to your kitchen and how can you spruce one up? Learn the answers to these questions today.
What is a Kitchen Hutch?
Simply put, a kitchen hutch is a combination of a cabinet and a display case. These objects usually look like narrow shelves, with a set of cabinets built in on the top half. The cabinet doors can either be solid or glass-fronted, depending on the design. Some hutch cabinets are wide enough to take up entire walls on their own.
Most people use kitchen hutches to display their porcelain or other flatware. Their design makes it easy for you to access items stored in them. Sometimes, people even store ingredients or other cooking utensils in hutch cabinets. They can also be easily arranged to accommodate your other kitchen décor ideas.
Making Your Own Kitchen Hutch
You can either purchase a kitchen hutch from a local furniture store or you can try your hand at carpentry and make your own. If you want to make your own, you can get a good head start by finding any bookshelves you may no longer be using. Install pull-out drawers on the lower shelves.
You can make your own drawers from particle board or plywood and adding rollers to the sides of the shelves. Leave the shelf space immediately above the drawers empty. For the shelves on the top half, measure them so you can make your own cabinet doors from wood. You can make them plain doors or cut out the middle and put in glass for a display-case style door. Attach them to the upper shelves with hinges
Kitchen Storage Space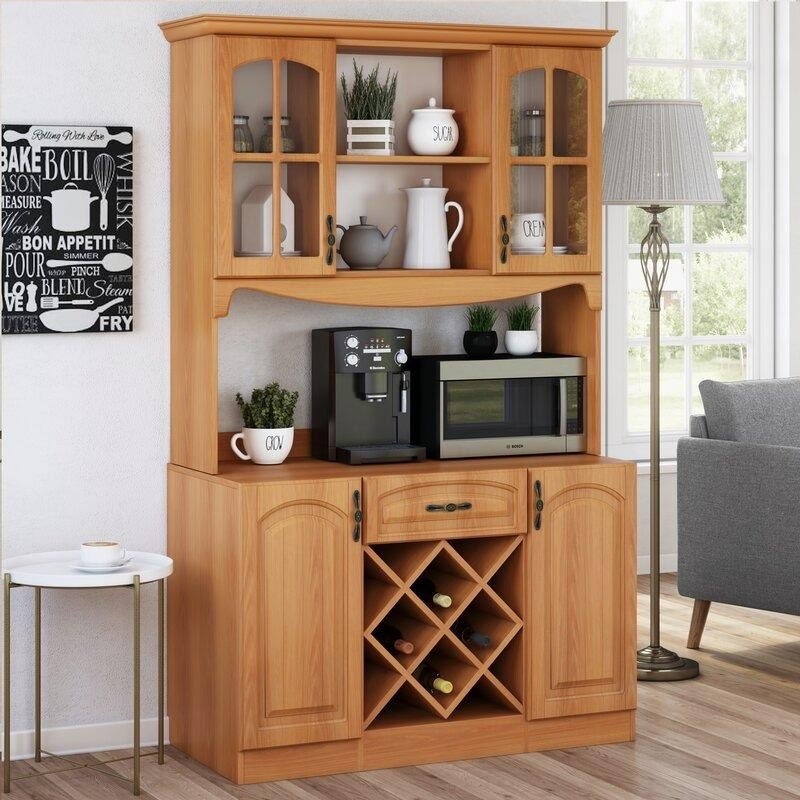 Few kitchen décor ideas are as useful as getting a kitchen hutch. Their importance and utility stems from their use as an extra storage space for a kitchen. But what makes extra storage such an important facet of a good kitchen?
Here's why you need to get a hutch cabinet as soon as you can.
Cooking is one of the most hectic activities you can do at home, and it involves using a lot of utensils and implements. Naturally, these objects take up a lot of space and you need as much furniture as you can that provide it. A kitchen hutch adds vertical storage space to your kitchen, meaning more room for your items.
A hutch cabinet increases your storage space without any need for remodeling your kitchen. That means you don't have to ruin your wallpaper by drilling holes for cabinets or tearing up the floor tiles. Simply put the hutch in the ideal location and start stocking it up.
A good kitchen hutch helps massively declutter your kitchen, keeping vital areas clear of objects and allowing you freedom of movement. Messy kitchens can be trouble, especially when you're puttering around cooking. Without an organized storage solution, you could waste precious minutes looking for items while your recipe burns on the stove. Or you could hurt yourself. Investing in a hutch cabinet can be a literal lifesaver.
How to Spruce Up Your Kitchen Hutch
If you've acquired your own kitchen hutch you may want to personalize it a little to make it a better fit for your kitchen.
Here's a few kitchen décor ideas you can use to personalize a hutch cabinet.
Use a little furniture paint and add accents on the corners of the hutch's doors and drawers. Look for a theme that would fit well with your kitchen, like grape vines or elaborate curlicues.
Get a can of glass paint and turn the glass-fronted cabinet doors of your kitchen hutch into stained glass wonders.
Kitchen hutches usually look like a stack of drawers with a cabinet case on the top half. However, if you build your own hutch, you can change up the configuration. You can have a hutch that's all cabinet drawers or one that's just cabinets stacked atop each other.
Every inch of space in your kitchen is prime real estate and you should always look for ways to make better use of it. A kitchen hutch is one of the best ways you can improve your kitchen's storage capacity without massive renovations.