Though people are eager for spring to start each year or that summer lasts a little longer, everyone would agree that autumn is the crowd's favorite season of all. There is a clean crispness in the air that is elating, and the leaves of trees burst into beautiful bright colors. Not to mention, there are the bonfires, pumpkin patches, and pumpkin-flavored everything. So why pack up your outdoor living space on the first sign of fall?
With so much time at hand due to all these social distancing and stay-at-home regulations, having a lovely outdoor space in your home during this fall season is great. Experts also agree that spending more time outdoors than indoors helps lessen the spread of the disease as there is enough air and sunlight to dilute the virus rapidly.
It does not take too much to create a comfortable yet functional outdoor living space for the colder seasons. With the right planning and execution, you can transform even the smallest outdoor area into a harvest-inspired haven.
Treat Your Outdoor Space as Another Room in Your House
The world's leading scientists are still in the quest for the antidote for the coronavirus disease. It is most probable we would be home-bound for another indefinite number of months. Given this fact, it makes a lot of sense to treat your outdoor living space as an additional room in your house. Thus, making it cozier and more inviting is a must.
Know What You Want and Set a Budget
But before jumping right away and making changes to your outdoor living space, consult with your household what it is that you all are trying to achieve.
Make a list and plan how you want your outdoor area to look like during this autumn season and the coming winter months. Set a budget on porch repair or any upgrade that you might need. It is also best to make arrangements with your family to keep the place tidy and ready to use.
Preparing Your Outdoor Space for the Cold Seasons
Fire Pit or Fireplace
Considering that the outdoor weather will be chilly for the coming months, make sure that your outdoor space is adequately heated. Features like a fireplace, fire pit, and fire bowls are the best options to warm your outdoor area, with companies like https://ssfirepits.com/ offering stylish designs that will suit modern gardens. By adding any of these warming features in your outdoor living space, you transform a cold, cheerless place to a cozy and inviting one.
Barbecue Grill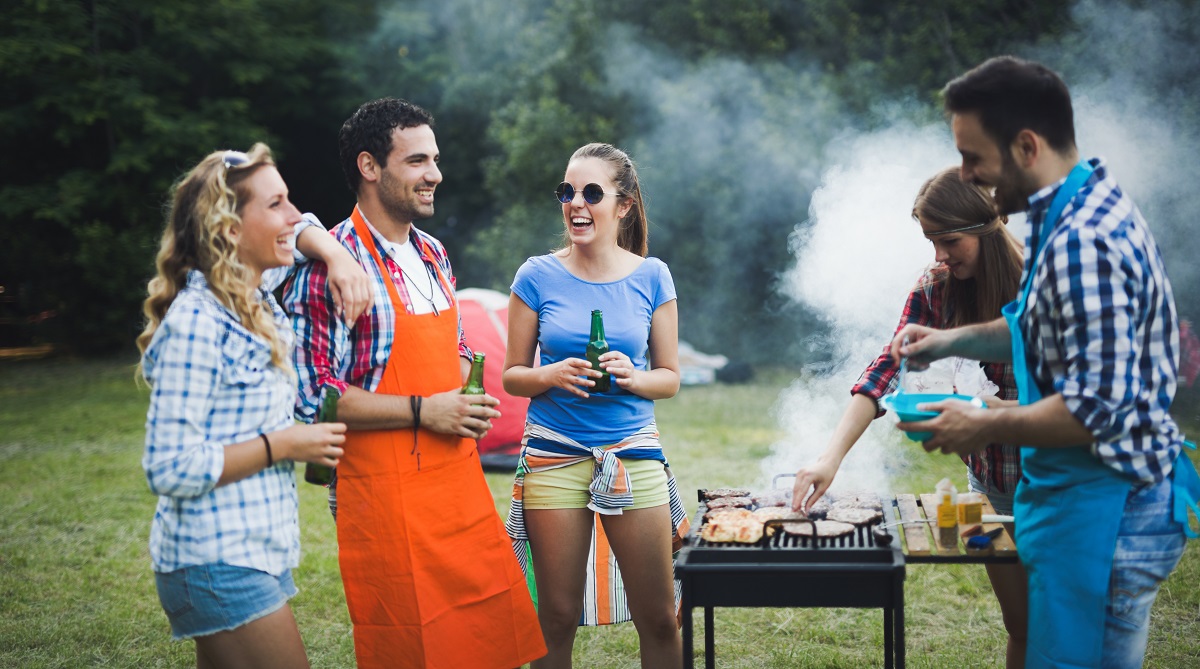 Barbecue Grill
Just because it is the cold outside does not mean you cannot have barbecue nights anymore. Make sure that your barbecue grill is protected from any rain and snow by installing a grill gazebo or shed. That way, you ensure the joys of grilling all year round.
Light up the Space
Add a festive feel to your outdoor living area by hanging a few lights and lanterns of different shapes and sizes. That will give a picturesque look to your outdoor space. Though often overlooked, lighting is crucial during fall and winter months because the days are much shorter than spring and summer months.
Update the Planters
Do not miss out on updating your greenery to match the somber atmosphere of fall. Swap out your spring and summer flowers to deep crimson, orange, and purple ones like Aster, Dahlias, Cornflower, and Celosia. Mix and match your pots for an eye-catching front facade and lawn.
…and Your Vegetable Garden
Continue growing your food even on cold seasons. Though it is best to start your fall garden during the mid-summer months, you can still catch up by planting varieties that only require a short period to mature. Prepare your garden soil by replenishing the mulch, loosening compacted soil, and amending it. Vegetables such as beets, bok choy, carrots, and peas grow best in cold weather.
Get Cozy with Blankets
Apart from changing your wardrobe, bundle up with textiles to warm up your outdoor living area. Throw blankets are a must if your fall activity includes playing touch football games, roasting marshmallow nights, and having a cup of hot chocolate outside. Have a few of your knit, woven, or fleece throw blankets stored on your storage box near the patio for easy access.
Prep up That Outdoor Furniture
Get your outdoor furniture ready as well for another season by cleaning it and revamping it if necessary. All the heat, dirt, and pollen gathered during the warm months would require some thorough care of your outdoor furniture to make it last longer.
Different homeowners have varied preferences when it comes to preparing their outdoor spaces for the cold seasons. Despite that, the most important thing to consider is that your family and friends will enjoy staying outdoors while safe and healthy.